Post by guffeygal on Jun 15, 2014 19:15:59 GMT -6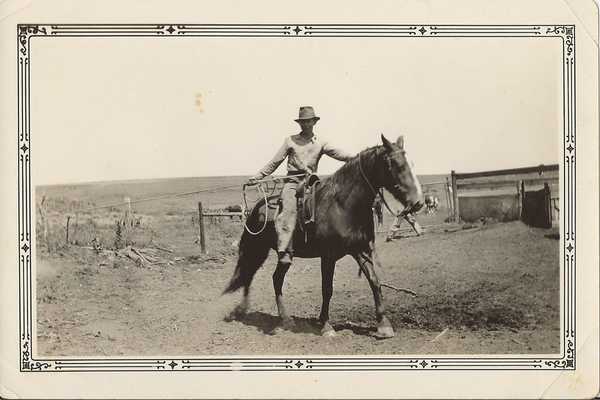 Orville Deewall working calves in Comanche County Kansas in the early to mid 1930's.
Orville Deewall at the halter of The 1946 International Grand Champion Steer Royal Jupiter as he was sold in The Chicago Union Stockyards to Firestone Tire and Rubber Company.
Firestone sent the steer on a 22,000 mile tour of The United States in a special van. Herb Carrier who was Assistant Herdsman at Oklahoma A&m and later AHA Fieldman in The Southeast made the trip with Royal Jupiter.
June 15,2014 is not only Father's Day but is The 100th Anniversary of the birth of my Father Orville Deewall. We feel it fitting to take a moment to remember a fine cattleman and a super father. Dad grew up in Comanche County Kansas and graduated from Coldwater High School at the height of The Depression in 1932. Orville worked for his Grandfather and other area Farmers and Ranchers for 4 years. In 1936 Bruce Taylor who had been Comanche County Agent had taken a position at Oklahoma A&M College. Mr. Taylor contacted Dad and asked him if he would be interested in attending College if Oklahoma A&M would provide him a job and a place to live. Dad was willing. The job paid 15 cents an hour and the room was in The Experimental Steer Feeding Shed. Dad often remarked that he would have framed his first check but he needed the cash too badly. He progressed on to The Draft Horse Barn and finally to The Beef Barn. Orville was a member of The 1939 Livestock Judging Team and upon graduation in 1940 was hired as Purebred Beef Herdsman.Dad served in The U.S.Army from 1942 until January 1946. He returned to Oklahoma A&M and fitted both an International and an American Royal Grand Champion Steer. The American Royal Steer was a Hereford and I remember brushing him as he was on display on the main floor of The Royal Building. Orville was also a positive influence on many students who worked "at The Barn" in his 9 years as Herdsman. Another of Dad's recollections was of Sam Paylor who some of you will remember as CK Ranch Manager and before that Managed Aurthur Godfrey's Farm in Georgia. Dad said when Sam came to College his first fall he only had one pair of shoes. Sam saved his shoes to go to class and did chores barefooted and even stacked alfalfa hay in that big old hay mow barefooted until he could earn enough to buy a second pair of shoes. He wanted to get an education didn't he.
Orville later managed Par-Ker Hereford Ranch in Northeast Oklahoma for 25 years. The Ranch was home to 500 cows and was a major supplier of bulls to The Commercial Industry from Kansas to Florida. I remember an Osage County Oklahoma Family buying 40 bulls privately one day before noon. I was almost always welcome to "tag along" and have valued those experiences so very much. Dad retired to Coldwater in 1978 and spent the rest of his life enjoying his family, land, and Hereford cattle. Thank You Dad for all the time you gave us. We often think Orville Deewall and Franklin Nash are looking down from above and are quite happy with The Hereford Cattle grazing the pastures of Comanche County.